At a worth of over $900 billion, Apple has captured the attention of many. It ranks at the top of many large American companies(Fortune), number 9 in the world (Forbes).
Their reputation precedes them. But like many other companies, Apple has fallen victim to scams. Even though their reputation is incredibly secure and resistant to viruses(iDrop), they can still be vulnerable to scams that can access your private information, such as login credentials or even financial information.
According to an article written by iDrop News, here are the 11 Most Common and Dangerous Apple Scams in Circulation:
11. Fake Receipt or Invoice Scams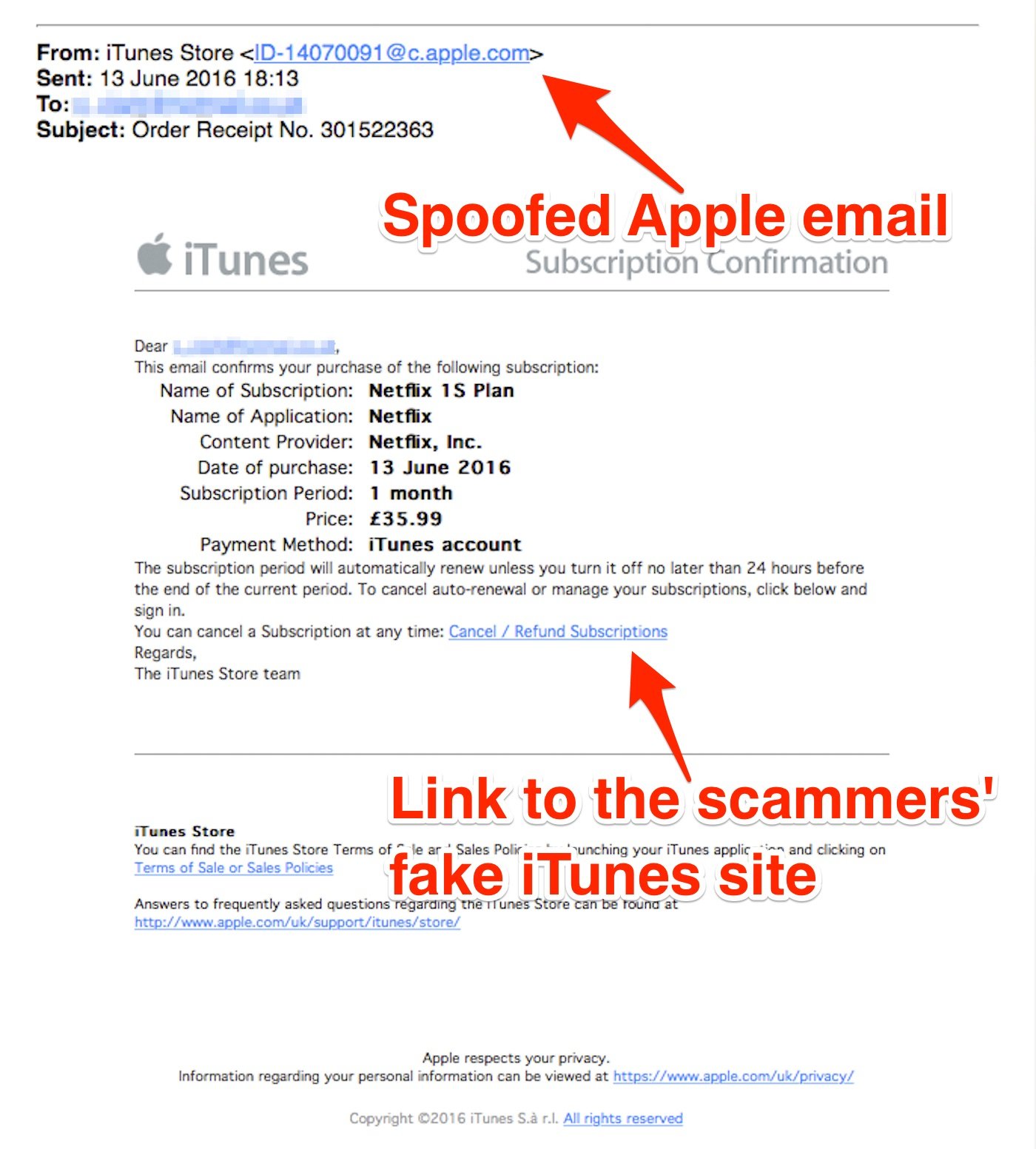 In these scams, it appears as if you have already purchased something. Typically, this 'receipt' will have a link to cancel this 'purchase', bringing you to a page asking for personal information.
Apple does not, as many other companies, ask for personal information when you cancel a purchase. Also, it's important to keep an eye out for the email address it was sent from. Most of the time, it does not look legitimate. Do not click on anything and just delete the email.
10. Phone Call Scams
This type of scam is becoming less popular in the days of changing technology, but they still exist. It will typically come from a 'support technician' claiming to be from Apple, explaining there is a 'breach in the system' or your Apple account has been locked. To verify your account, they will ask for your personal information.
Remember: Apple does not call you in cases like this. If you are unsure, hang up and call Apple. Never give your personal information to an unknown source.
*Apple's support number: 1-800-275-2273*
9. Emails from "Apple"
Receiving emails from Apple is actually quite common, but what we need to be aware of is the sender's address. Often these emails will look legitimate. Kind of like the phone call scams, the email will claim you are locked out of your account. You will be given a link to verify your account.
Remember: Again, Apple will not ask for your personal information in this fashion. Delete the email and do not give any personal information to an unknown sender. Always contact Apple when in doubt.
8. iMessage Scams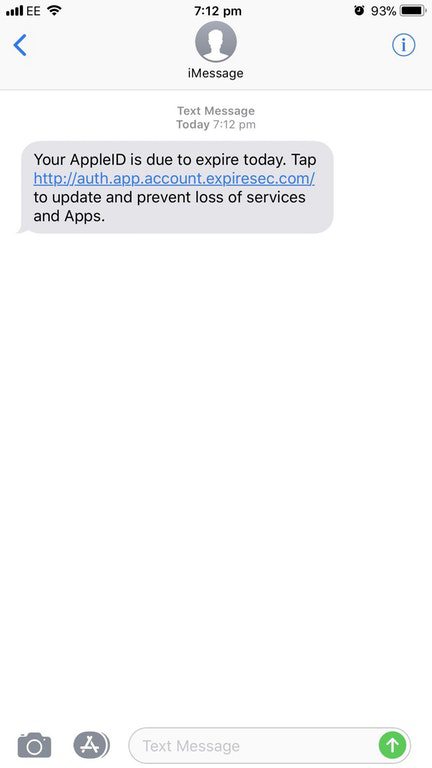 In the times of changing technology, we are just as likely to receive scams via text that we are email. Again, just like the email scams, they will claim your account has been locked due to something like a large number of login attempts. These scammers claim to have serious consequences if you do not act quickly.
If you've noticed a trend here, DO NOT click on this link and provide your personal information to save your account. By just clicking on the account, you have subjected yourself to future texts because the scammer is now aware the phone is being used.
7. Browser Pop-Up Scams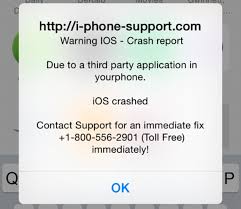 Browser pop-ups are common and quite frankly, annoying to deal with. They pop up in a random fashion and don't often allow you to close out of them without restarting the browser app. It often advises you to contact the tech support number provided where they will be able to remotely access your device and steal your personal information.
If this happens to you, just close the web browser and close the tab you are working in. NEVER call this number, as these scammers do not know if your browser has actually crashed.
6. In-App Purchases Scam
These scammers take on an image of a legitimate app, promising a service in exchange for some sort of fee. If anything seems off, such as the title of the app or misspellings, take a look the app's reviews. That will be able to help you discern whether or not you are downloading a legitimate app.
5. iCloud Phishing Scams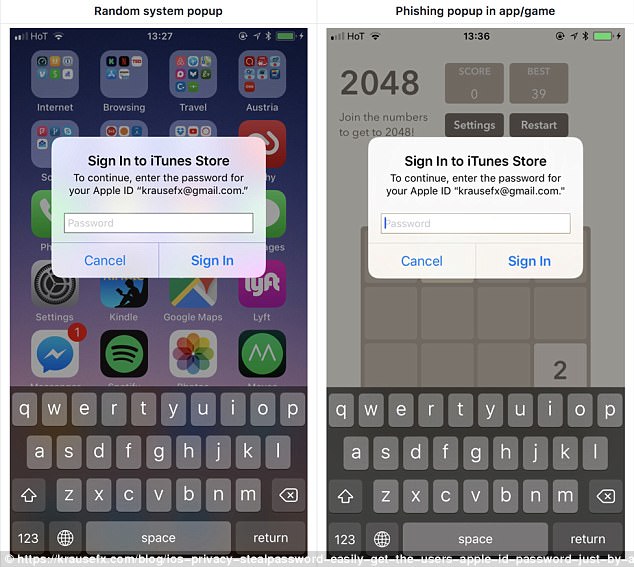 While we often are prompted for our iTunes store login on our iPhone, scammers have developed a very similar pop-up to access your personal information.
If you are unsure of what the password prompt is for, hit the home button. If the pop-up goes away and does not come back, it is a scam. If it remains, that is a legitimate password prompt.
4. iTunes Gift Card Scam
In these types of scams, you will receive a call from what seems to be someone in a 'sense of panic'(iDrop). They are claiming to be from the IRS, bail bond companies or debt collectors. In order to pay off debt you owe, you need to purchase an iTunes gift card and provide them with that card number.
Always remember, IRS and other similar organizations do not accept gift cards as payment. Also, the IRS will never call you, they will send a letter in the mail if necessary.
3. Locked Device Ransomware
This is more ransomware than a scam, but one of the worst, and most effective, ways a scammer gets their money out of Apple users. These scammers use location-based apps like 'Find My iPhone' to access your personal information. With this information, they are able to lock an Apple device, display a message and demand a payment to unlock that device(iDrop).
Unfortunately, there is not much you can do to get yourself out of this situation. At this point, a user who has already given out their personal in aforementioned scams, their best option is to contact Apple. Avoid this by creating strong, complicated passwords and DO NOT re-use these passwords.
2. 'Tech Support' Scam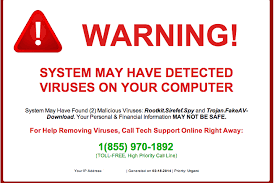 Becoming more popular than we'd like, this type of scam typically occurs in your internet browser, the scammers just want your money. Scammers will attack your browsers, Chrome being the most commonly invaded browser, with a message stating that there is some type of problem with your computer. They will advise you to call their support number provided on the computer screen, and you'll ultimately be asked to give some type of payment for whatever service they claim they will give you.
Do not panic. Tech support(BK included) does not contact you in this fashion if there is a problem with your computer. Just simply close your browser or affected tab in the browser to avoid giving away any personal information.
1. Flash Installer Malware
Ranking #1 on a list is a different type of scam then the aforementioned scams. It involves a fake software portraying itself as real piece of software.
The fake software appears to the user as legitimate, as it does actually do what the real software does. An example, according to iDrop News, is software called 'Snake.' It appears as an Adobe Flash installer, where it actually downloads the correct installer when prompted. What users can't see is that it also is installing malicious, fake software in the background. This helps the scammers/hackers access your personal information.
The best way to avoid this is to only download apps from the App store or from sources that you know and trust (such as downloading Adobe Flash right from the Adobe site). Also, take a look at the ratings and reviews for the software/app. Often you will be able to tell if it's a trustworthy source.
We bring this information to you in hopes that it will prevent dangerous, malicious scammers from accessing your personal information. If you are ever in doubt when you see anything like these 11 popular scams, call tech support as soon as possible to avoid disclosing your personal and financial information.
References:
"11 Most Common and Dangerous Apple Scams in Circulation." IDrop News, 12 Feb. 2018, www.idropnews.com/news/11-common-dangerous-apple-scams-circulation/63093/.
Shen, Lucinda. "Apple Is Now Worth Over $900 Billion. But It Won't Be the World's First Trillion Dollar Company." Fortune, 8 Nov. 2017, fortune.com/2017/11/08/apple-stock-amazon-trillion-aapl-iphone-x/.
"The World's Biggest Public Companies." Forbes, Forbes Magazine, 2017, www.forbes.com/global2000/list/.